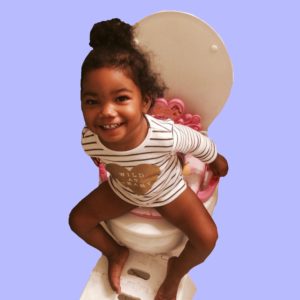 "We have been potty training for several weeks, and it doesn't feel like we've made any progress. I've tried EVERYTHING!"
"He has no problem using the potty at preschool, I think he forgot we have a toilet at home too."
"My daughter was potty trained by 18 months, but at 4-years-old she still wants a diaper for bowel movements."
"My child has special needs, where do I even begin?"
Potty training can be stressful for everyone involved, and it is normal to feel a wide range of emotions throughout the process. You and your child have likely experienced joy, hopelessness, pride, disappointment and most definitely exhaustion. You may have read every book, watched every youtube video on the topic, spoken to your pediatrician, the family psychologist and even made the dreaded call to Great Aunt Ethyl who raised 10 kids of her own; how then could you still feel so lost? In this content packed society we live in, often there is just too much information to make sense of, never mind use! While the end goal might be the same, every child and family is different; it's my job to alleviate the stressors, all factors considered. I take the guess work out of potty training by developing a highly individualized plan for your child and then walk you through the process while potty training your child. Techniques used are based off of empirically sound research and focus on the successful gains your child makes. This process quickly loses it's daunting stigma and becomes fun for your child! So, where do you begin? Take a deep breath – you just did.
Q&A
What age do you find your services most beneficial for?
Typically from 2 1/2 on up, however there may be some variation based on each child's unique needs.
What exactly do you do?
This very much depends on you and your child. I find potty training to be most successful when it is individualized. I collect information during the initial evaluation that I then use to develop a program that aims to negate impeding behaviors and capitalize on positive interactions. A similar approach is used with a variety of services provided by Robyn's N.E.S.T. If you wish to engage in a free 15 minute phone consultation click here (link google sheets) and fill out the form provided.
Do I have to be around while you potty train my child?
While it is not essential for you to be present, it is highly recommended that a primary caregiver be intermittently engaged in the intervention. It is, however, required that another adult is present in the home, or accompanying the child to the office. I also ask that 3 days post intervention are identified as top priority potty days. By strictly adhering to your child's individualized plan for these days, skills are solidified and children are much more likely to continue to have success toileting there after.
I know you potty train typically developing kids, but what kind of special needs are you used to working with?
I have worked on potty training with a variety of children, including but not limited to, those who have developmental delays, pervasive developmental disorder (formerly the autism spectrum), attention deficit disorder, cerebral palsy, spina bifida, paralysis, seizure disorders, children who are deaf, blind or varying combinations of the two, as well as children who have faced trauma.
Are there any benefits to hiring you aside from the obvious stress and time reduction during the potty training process?
During our time working together, caregivers are given personalized strategies to help identify and circumvent behavioral challenges as well as how to respond if a challenge does arise. While these tools are given in the context of toilet training, much of what is learned can be applied to a number of situations you and your child will face during this phase of development.
And of course there's the added bonus of not having to buy diapers any longer!
If you are interested in toilet training for your child, or would just like more information, click here  and fill out the form provided.